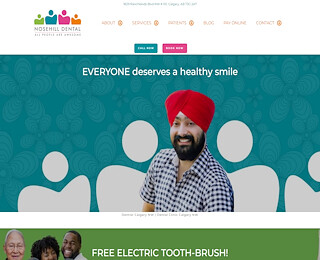 Cosmetic dentistry is a bit like general dentistry, but with the added dimension of art, as it is aimed at creating a positive change to your teeth and your smile. If you're in the Calgary area and are looking for an excellent cosmetic dentist, Nosehill Dental Centre offers cosmetic dentistry in the form of:
- Smile Make-overs
- Full Mouth Reconstruction
- Teeth Whitening
- Porcelain Veneers
- Dental Implants
- Mini Dental Implants
- Dental Crowns
- Dental Bridges
- all of which are designed to help you achieve your personal and cosmetic goals and create your beautiful smile. With so many options available today, you can be on your way to a perfect smile with only one appointment.
Nosehill will assist you in achieving the beautiful results you expect, with the use of special materials such as ceramic and composite technology. These durable materials are the basis for both beautiful results and long lasting work, especially when using the latest in digital dental technology, as with the case of Nosehill Dental.
At Nosehill, they understand how cosmetic dentistry can positively impact your overall health and change the way you feel about yourself. Not every dentist has what it takes to become a cosmetic dentist. It requires so much extra training in learning to implement digital dentistry and learning the skills to use the highly advanced materials properly. Only a dentist who is truly passionate about the appearance of their work an the results their patients will receive is willing to take time away from their office and spend money for the extra training required to learn and practice the necessary techniques.
At Nosehill Dental, they think that extra time is well spent to be able to offer their patients the professional cosmetic services that they're looking for. They know that by straightening teeth, they can help patients avoid other potential health issues later on that can impact more than just oral health. With a thorough examination, your Nosehill dentist can determine the appropriate plan of treatment to suit your personal needs.
Some basic benefits of having straight teeth include:
- Easy maintenance including brushing, flossing and cleaning
- Less wear and tear over time. Teeth that are aligned properly equally share the load of biting and chewing
- Less dental work needed in the future
- A more comfortable bite for the patient and a relaxed jaw with less pressure on the jaw bones and joint
- Natural looking replacement materials designed to look and feel like your original teeth
- Overall strength and longevity
Cosmetic and restorative dentistry can offer you many options to improve your smile. Nosehill Dental provides all of the popular services their patients are looking for when considering how to get the results they want to achieve. If you've been thinking about cosmetic dentistry and you live in the Calgary area, why not make an appointment with the professional team at Nosehill Dental and talk with one of their dentists to learn more about your options. You'll be glad you came in, and your smile will show it.
Calgary Cosmetic Dentist