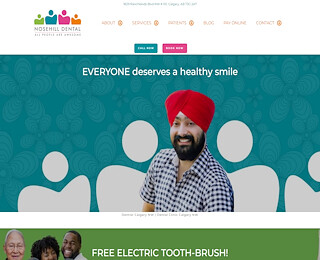 Your smile is meant to last a lifetime, and with Calgary dental implants from Nosehill Dental Centre, it will. Replacing missing teeth is crucial to your overall health, and additionally to the overall health of your other teeth. When natural teeth are missing, you not merely lose functionality, but you can also experience a multitude of various other problems. Having missing teeth isn't simply embarrassing, but it can cause your mouth to deteriorate quickly when left untreated. Dental implants enable you to look and feel good, regain your self esteem, as well as have a greater quality of life. Nosehill Dental Centre provides a comprehensive and unique concept for total oral health.
At Nosehill Dental Centre, we are known as the leading dental clinic that provides the most beautiful and lasting Calgary dental implants that are currently available. You won't find a more cutting edge dental clinic that offers the same state-of-the-art technology, along with our professional know how that allows us in providing the most comfortable environment for you to relax in, while we totally transform your smile into one that you love and will want to show off. We have a full staff of medical professionals that will advise you, and teach you about the techniques that we use in order for you to enjoy a stunning smile for the rest of your life.
A significant advantage to tooth implants is they preserve bone and stop additional degeneration of the face framework, thus improving your appearance. When most or all of your natural teeth are severely compromised or perhaps missing, there's absolutely nothing left in the jawbone to stimulate bone development. The human body is able to sense that the jawbone is no longer essential to support teeth, and it starts to dissolve away. This results in quick deterioration of the skin structure, whereas lips fold in, the lower face shrivels up, and wrinkles develop around the lips to produce "marionette lines." This will make you look a lot older than you are. With dental implants, face structure collapse and wrinkles are eliminated, giving you a younger smile.
Tooth implants allow both your smile and mouth function to be organic and natural, which leads to enhanced confidence and comfort when smiling, speaking, and eating. If dentures and partials are actually replaced with implant supported teeth, your quality of life will improve considerably, since you will have the ability to eat and chew all foods types, as well being in a position to speak and laugh more confidently. For those who have suffered from tooth loss for many years, this is a significant relief.
If you would like some additional information regarding the advantages of Calgary dental implants, Nosehill Dental Centre would like to invite you to visit our website. At nosehilldental.com, you can find out more about the other dental procedures that we proudly offer. On our home page, you can leave your contact information, or please call us at 403.241.1900, and speak with one of our caring and knowledgeable staff members.
Calgary Dental Implants