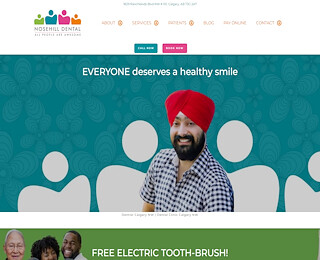 Looking for a dentist in the Calgary area couldn't be any easier when Nosehill Dental Centre is available to meet all of your family's dental needs. From cosmetic dentistry to orthodontics, Nosehill is able to provide their clients with almost any dental service that is needed, including
 
- Orthodontics, including invisalign to address misaligned teeth that can lead to more serious problems down the line. Nosehill offers traditional metal, ceramic and invisalign braces options to meet all of their patient's individual needs.
 
- Tooth whitening for your brightest smile
 
- Implant tooth replacement for a more permanent solution that traditional dentures, tooth implants are anchored to your jaw and look and feel so much like your regular teeth that you may forget they are not your originals.
 
- Laser dentistry without anesthetic 
 
- Smile make-overs designed to improve your smile in whatever means necessary to achieve your desired result. Because a beautiful smile can help you become happier with yourself overall, Nosehill works hard to meet your goals by working with you.
 
- Crowns, bridges and veneers are available to meet all of your cosmetic needs, from staining and chipping to crooked or missing teeth, Nosehill's solutions will give you back your perfect smile.
 
- Wisdom teeth extraction for times when wisdom teeth do not come in properly and need to come out.
 
- Root canal therapy designed to save a tooth and preserve it for long lasting wear. Saving a tooth by root canal therapy eliminates the gap between teeth when one of your teeth is missing, and keeps adjacent teeth from shifting or traveling. Root canal therapy also keeps your smile looking its best.
 
- Cancer screening for peace of mind
 
- Implant supported dentures for a better fit and grip, keeps your dentures from slipping while eating and from shifting when you smile or talk. The secure fit of a denture implant will give you the best confidence when wearing your dentures.
 
- Snoring solutions for Sleep Disordered Breathing, includes therapy by use of oral appliances that have been designed to be worn while sleeping and help to promote adequate air intake and provide normal sleep to people who snore.
 
- Sedation dentistry is Nosehill's method of keeping you calm and relaxed through the use of sedatives during dental procedures. No other dentist in the Calgary area understands patients the way Nosehill does, and they want to ensure you are comfortable and stress-free during your dental visit. Sedatives include tranquilizers, nitrous oxide, and anti-anxiety medications.
 
- Children's dentistry is a major focus of Nosehill Dental Centre and they are dedicated to providing a full range of dental services for children and, of course, complete family dentistry
If you're in the Calgary area and you're looking for an excellent dentist to bring your whole family to, Nosehill Cental Centre wants to be your place to go for keeping your family's smiles their brightest and whitest. Why not set up an appointment with their professional team to find out what they can do for you?
Calgary Dentist