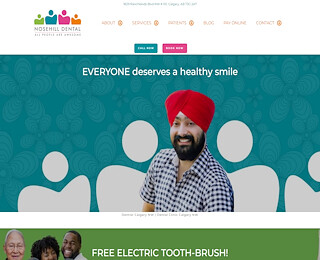 Nothing is quite as frightening as needing emergency dental services and not being able to locate a dental center that can see you after hours. Nosehill Dental Centre is Calgary's number one trusted emergency dentist, whether you've had a dental injury or are in pain after hours, Nosehill understands your need and will see you quickly to get your pain under control.
If you're unsure of whether you're experiencing a dental emergency, ask yourself if you're in pain. If the answer is yes, you need emergency dental services immediately. Nosehill Dental welcomes all patients experiencing a dental emergency. It's just one more service that Nosehill provides to the Calgary community. Nosehill provides dentist on-call information on their answering machine after hours.
Even tooth injuries that may seem small or insignificant can affect the living tissue inside of the teeth. Treating teeth quickly improves the odds of saving your damaged or injured teeth. Even if you aren't in any pain at all, any structural damage to a tooth should always be considered an emergency and should be seen promptly by a dentist. Chips and cracks can cause greater problems down the line that may require more serious treatment and perhaps loss of one or more teeth. Nosehill Dental can prevent the damage from becoming worse and save you money later on.
A lost filling or crown is also an emergency, and should be seen by your dentist right away. Even in an absence of symptoms such as pain or throbbing, a tooth that has lost support can easily weaken and cause problems. Seeing a dentist right away is your best bet for repairing the damage with minimal treatment.
Emergency dental treatment should be seriously considered if you have one or more of the following symptoms:
- A toothache that won't go away
- Facial swelling
- Thinking that you have a gum infection
- Sensitivity to cold or hot liquids or sweets
- Pain under biting pressure
- Constant or intermittent tooth pain
- Tooth pain that severely throbs
- Tissue swelling of the face
These are all good indications that you are experiencing some kind of dental issue that needs to be taken care of in a timely manner. Waiting under these circumstances will generally not improve the situation, but will most likely only worsen the issue and cause additional problems that will require you to spend more money and possibly undergo unnecessary pain.
Nosehill Dental Centre offers superior emergency dental care to the greater Calgary area, providing the community with the best care under the circumstances and getting your pain managed quickly so that you can go on with your life. Since nothing can be more life-interrupting that a tooth ache that is not promptly tended to, Nosehill makes emergency treatment easy for you if an injury should occur after hours. Don't spend another night in pain. Contact Nosehill Dental Centre and find out what they can do for your individual dental needs.
Calgary Emergency Dentist