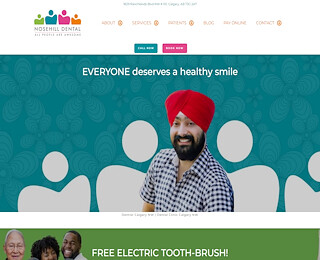 No one in the Calgary area offers more dental services for your family than the professionals at Nosehill Dental Centre. Dedicated to providing your whole family with the best dental care available, Nosehill has a wide range of services from your youngest family member to seniors and everyone in between.
A family dentist should meet the needs of your entire family, and Nosehill Dental understands this, which is why they offer the following dental services:
 
- Complete orthodontal, including the virtually invisible invisalign, designed to straighten and correct teeth and offer a healthier smile and overall oral health.
 
- Tooth whitening for your brightest and whitest smile possible
 
- Implant tooth replacement for one or more missing teeth, to keep gaps from closing and adjacent teeth from shifting or moving, causing further damage
 
- Laser dentistry without anesthetic
 
- Complete smile make-overs using cosmetic and traditional dentistry to help you achieve your perfect smile
 
- Crowns, bridges and veneers for a full range of cosmetic dentistry designed to look and feel every bit as beautiful and natural as your own original teeth
 
- Wisdom teeth extractions for back molars that are not coming in properly
 
- Root canal therapy for teeth that need to be saved in order to keep adjacent teeth in place and prolong the life of your tooth
 
- Implant supported dentures that will not shift or slip when you're in the middle of eating or talking
 
- Snoring solutions designed to help you achieve a better quality of sleep
 
- Sedation dentistry for superior tranquility while undergoing any kind of dental treatment
 
- Cancer screening for your total peace of mind
 
- Children's dentistry for developing teeth care and oral health education
 
- Complete family dentistry designed with every member of your family in mind
With so many options available, you'll never have to go anywhere else to have the treatment you need taken care of, all at one location- Nosehill Dental Centre. Your whole family will love the friendly and professional way that they are treated while receiving excellent dental care that is second to none in the industry. Calgary is the one truly committed and passionate Dental Centre that understands what their patients are looking for and is able to deliver.
Nosehill also knows that there is a need for a family dentist to accept emergency treatment patients, and they are fully committed to meet the needs of emergency dental care. If it's after hours and you're experiencing tooth pain, Nosehill Dental is on call to treat your injury and get your pain managed quickly. Find out why patients all over the Calgary area love Nosehill. 
From young children who need regular cleanings and oral education to teenagers with alignment or correction issues and older patients who may need a tooth replacement plan, Nosehill is there with a treatment option that will result in your perfect smile. Don't wait one more day to find out why the Calgary community calls Nosehill the number one family dentist in the region.
Calgary Family Dentist