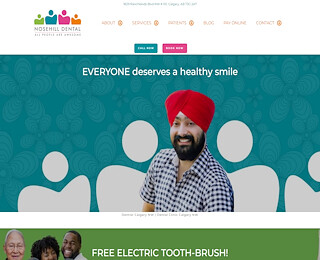 Nosehill Dental Centre in Calgary is a proud provider of invisalign services to their patients looking to improve their smile without the long-term commitment of traditional braces. Invisalign is the virtually invisible way to straighten your teeth without conventional braces. Invisalign technology uses a series of clear, removable aligners designed to move your teeth gradually over time to give you the perfect smile you've been wanting.
Adults generally prefer invisalign for their straightening needs because they are barely perceptible  and be taken out on need. In many cases, invisalign can be used to straighten teeth in teenagers as well, which is popular among the younger crowd.
Your invisalign treatment will consist of a series of clear-aligners that will switch out about every two weeks. Each aligner in the series is individually manufactured with precise calculations to slowly and gradually begin to move your teeth into their proper place. An invisalign system is custom made for your individual and unique needs with a plan that your dentist or orthodontist will orchestrate so that your results will be perfect for your face.
If you're in the Calgary area and are thinking about learning more about invisalign, Nosehill Dental Centre offers invisalign services for their patients to improve the look of their smile and give them the confidence they may be lacking. To totally transform your smile, invisalign might be your solution. Talking with your dentist is the first step in finding out what invisalign can do for you.
Some of the benefits of invisalign:
- Uniquely fits your lifestyle. Since invisalign is barely noticeable, you can go about your day or routine with almost no one even knowing you're in the process of correcting your smile. The unique ability to remove your aligner when the need arises is a huge advantage that other straightening options cannot offer.
- Straight teeth are a sign of a healthy smile. Correcting the alignment of your teeth will improve your oral health.
- Since crowded or misaligned teeth can easily lead to periodontal disease, straightening your teeth can make a big difference in the day to day care of your teeth and gums, keeping them healthy and well maintained. The greatest benefit of using invisalign is in straightening the teeth, and straight teeth affords the ability to maintain the health of your teeth and gums.
- With the removable feature of the invisalign aligners, patients are better able to clean their teeth while they are being corrected. This leads to less plaque buildup, tooth decay and periodontal disease.
If you live in the Calgary area and have been considering whether or not to correct your teeth with invisalign, there is no better time to make an appointment with Nosehill Dental Centre. Their professional team with take time with you to set up a treatment plan that will improve your smile and give you back the confidence you want. It only takes a phone call, but the results are lasting. Don't wait another day to find out what invisalign can do to brighten your smile.
Calgary Invisalign